MakerBot SketchClassroom Bundle
$1,650.00 – $3,265.00 ex. gst
Maximize Student Innovation Remotely 
The access you need to print your students' projects and keep innovation going strong
Combine Remote Classroom Teaching with Hands on Learning
Unlock students' creative potential with accessible 3D printing merged with project-based learning
SKETCH Classroom is built to be the complete 3D printing classroom setup with an ideal student-to-printer ratio that maximizes students' access and teachers' success in the
The SKETCH Classroom addresses the challenges of 3D printing in the classroom with a solution that includes interactive certification courses for both teachers and students that trains them on how to use the MakerBot SKETCH 3D printer, create and implement engaging curriculum, and teach design thinking and problem-solving with 3D printing.
The SKETCH Classroom offers a unique workflow solution that addresses the printer-to-student ratio challenge and provides the best setup for effective deployment. The SKETCH firmware and print management software are natively connected to MakerBot Cloud™ platform and incorporate a full suite of 3D printing applications. The SKETCH Classroom software suite provides print design, preparation, and management as a single solution out of the box. Students are able to submit their designs via MakerBot Cloud through their MakerBot account on my.makerbot.com, and teachers can seamlessly manage, queue up and monitor their students' 3D printing projects. This is designed to be the best 3D printing setup for the classroom, making 3D printing more accessible to students, and setting educators up for 3D printing success.
Flexible Printer Setup
The SKETCH platform supplies you with what you need to integrate 3D printing into the new school year successfully — whether that's back in the classroom or teaching from home.
Heated and Flexible Buildplate
Heated build plate for secure, successful printing and a flexible surface to make removing finished prints a breeze.
Touch Screen Controls
Start, monitor and pause your students' prints with an intuitive interface, designed for easy 3D printing navigation.
Enclosed Chamber and Particulate Filter
Place your printer anywhere in the classroom without worrying about curious hands and print with peace of mind with a particulate filter installed in each printer.
Dual Printer Bundle
The Dual SKETCH Classroom includes: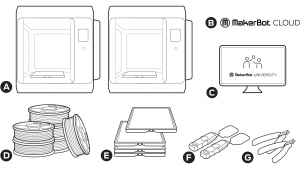 TWO MAKERBOT SKETCH™ DESKTOP 3D PRINTERS
Ⓐ 2 MakerBot SKETCH™ 3D Printers
Ⓑ MakerBot Cloud™
Ⓓ 6 MakerBot PLA Spools
Ⓔ 4 Build Plates
Ⓕ 2 Spatulas
Ⓖ 2 Snips
THE MAKERBOT CERTIFICATION™ PROGRAM FOR STUDENTS AND TEACHERS
Ⓒ 2 Seats in MakerBot Certification™ for Educators
Ⓒ 10 Seats in MakerBot Certification™ for Students
Single Printer Bundle
The Single SKETCH Classroom includes:
THE MAKERBOT CERTIFICATION™ PROGRAM FOR STUDENTS AND TEACHERS
Ⓒ 1 Seat in MakerBot Certification™ for Educators
Ⓒ 5 Seats in MakerBot Certification™ for Students
Additional information
| | |
| --- | --- |
| Select Sketch Bundle | Single Printer Bundle, Dual Printer Bundle |